Arameh concentrates her practice on defending companies in product liability litigation. She counsels manufacturers and distributors on various issues arising throughout a product's life cycle, including product development, market launch, regulatory compliance, and document retention / management issues. Clients also rely on her to assess litigation risks and implement effective prevention strategies. In addition, Arameh represents life sciences companies in complex mass tort litigation and has extensive experience managing and coordinating class action and multidistrict litigation.
She represents clients in a variety of industries — including the pharmaceutical, medical device, retail, electronic, personal care, and cosmetics sectors — and takes an aggressive and pragmatic approach to resolving lawsuits to protect her clients' brand and business interests. Arameh leverages her knowledge and understanding of her clients' businesses and products to help them succeed. In addition to representing companies in litigation, she provides advice and counsel on risk assessment and prevention strategies, product labeling, as well as corrective actions, including recalls.
Arameh has been an integral part of numerous trial teams defending pharmaceutical and medical device manufacturers in high-profile litigation throughout the country. She also has significant experience effectively streamlining and coordinating mass tort litigation on a national, regional, and statewide level. This includes cultivating creative and compelling defense trial themes; training national trial teams; leading teams of local attorneys in consistent and aggressive national defense strategies; analyzing comprehensive case-specific data to facilitate global assessment; identifying, developing, and presenting defense experts; and preparing company witnesses for testimony. Her unique ability to connect with witnesses and translate complex issues into persuasive, concise narratives makes her indispensable in bet-the-company litigation.
As discovery counsel, Arameh has directed legal teams across multiple firms in the efficient collection and strategic analysis of company documents. She regularly guides clients in the implementation of document management protocols and litigation holds.
Education
Pepperdine University (JD)
McGill University (BA, Honors Political Science)
Experience
Currently representing leading international medical device manufacturer in product liability and other general litigation throughout California and other jurisdictions relating to products ranging from EMS supplies, surgical instruments and power tools, to orthopedic implants and bone morphogenetic proteins.
Provide ongoing counseling to medical device company with responsibility for handling, supervising, managing and/or directing the defense of their significant products liability matters and providing general advice regarding risk management, CAPA, recalls, pre-litigation strategy, litigation prevention and regulatory issues relating to their various divisions and product lines. Also supervised local counsel throughout the country and participated in trials in multiple venues.
Serving as member of national coordinating and lead trial counsel team for a manufacturer of implantable orthopedic devices used in total hip arthroplasty alleged to cause various injuries in users stemming from metal debris and ions released in vivo.
Served as member of national coordinating and lead trial counsel team for a national Fortune 500 life sciences company in two separate mass tort litigations involving different product lines.
Part of trial team defending prominent orthopedic surgeon/researcher in mass product liability litigation for allegations relating solely to his participation in the design process, involving a large multi-disciplinary design team.
Defending a supplier of sophisticated ventilation and air handling systems in a fatality case at a major Los Angeles Hospital. Multiple claims by the decedent heirs and several cross-complaints for equitable indemnity and apportionment of fault have been asserted in connection with the death of a hospital employee killed while servicing the relevant equipment.
Served as key member of the California trial teams for large pharmaceutical client in massive products liability litigation involving company's voluntary withdrawal of blockbuster nonsteroidal anti-inflammatory drug alleged to have caused heart attack, strokes and other injuries in thousands of users from the market. Played an integral role in the day-to-day coordination and management of thousands of lawsuits filed against the pharmaceutical company.
Provided pre-marketing advice and counsel to world-leading medical device company regarding new technology for cardiac implants. Conducted extensive risk assessment for products contemplated for launch and provided recommendations for changes to product literature, launch materials, training of product representatives aimed at reducing products liability risk and exposure.
Recognition & Awards
Included on the Southern California Super Lawyer: Top Women Attorneys Rising Star – Personal Injury – Products: Defense list (2019)
Recognized by Los Angeles Business Journal as one of the Most Influential Women Attorneys in Los Angeles (2018-2019)
Included on the Southern California Super Lawyer: Rising Star – Personal Injury – Products: Defense list (2009 – 2019)
Graduate, International Association of Defense Counsel (IADC) Trial Academy, Stanford Law School
Involvement
Subcommittee Chair, ABA Section of Litigation, Mass Torts Committee, Pharmaceutical and Medical Device
Member, International Association of Defense Counsel (IADC)
Member, Defense Research Institute (DRI)
Recent Insights
News & Press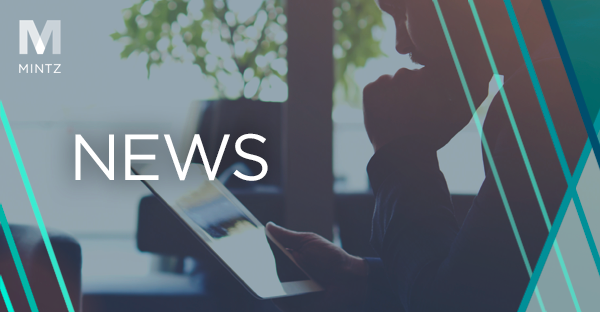 The Daily Journal covered Mintz's second annual "Lawyer for a Day" event held on March 5 in the firm's Los Angeles office. During the event, Mintz hosted approximately 30 middle school students from New Los Angeles Charter School, a Title One school, for conversations with firm attorneys and external in-house counsel panelists to learn more about the legal profession and what it's like to be a lawyer.