Jeffrey R. Porter
Member / Chair, Environmental Law Practice
+1.617.348.1711
With over three decades of litigation and transactional experience, Jeff is widely recognized as one of the top environmental lawyers in the country. Clients seek him out to solve complex environmental law challenges facing the private and public sectors.
Some of the largest global companies rely on Jeff's insights and strategic guidance. Clients praise him for his "substantive experience, local connections, and knowledge" and "innovative approach to negotiations." They appreciate his commitment to solving any matter by "deeply understanding the big and small pictures, the internal and external politics, and the whole context." He is ranked Band 1 by Chambers USA which says, "Jeff has a rare combination of skills and judgment that allows him to provide legal guidance that is politically astute and sensitive to all other external dynamics."
Jeff is Chair of the firm's Environmental Law Practice. He is also the Chairman of Boston Harbor Now and serves as a Trustee of the Massachusetts Environmental Trust. Jeff is a Fellow of the American College of Environmental Lawyers. He was a member of the MassDevelopment Board of Directors from 2013 and 2016 and he was also the Chair of The Nature Conservancy's Trustee Council, having previously served as the Chair and Vice-Chair of The Nature Conservancy in Massachusetts.
Jeff advised the Massachusetts Legislature's Committee on Natural Resources and Agriculture during the drafting of the 1998 Brownfield legislation that has spurred the beneficial redevelopment of underutilized former industrial sites across the Commonwealth.
Education
Cornell University (JD)
Bates College (BA)
Experience
Represents GE in administrative proceedings to select a remedy for the Housatonic Rest of River.
Represented GE in the acquisition and permitting of its Headquarters on the Boston Waterfront.
Advised Global Gaming Resort client regarding assessment and remediation of chemical manufacturing contamination and permitting of Brownfield redevelopment project.
Represented a global biopharmaceutical manufacturer in connection with the acquisition of a portion of a former military base located in Devens, Massachusetts, for the construction of a large-scale, multiproduct bulk biologics manufacturing facility.
Defended GE against allegations that GE arranged for the disposal of hazardous substances at the Fletcher's Paint Works and Storage Facility Superfund Site.
Recognition & Awards
Best Lawyers in America: Environmental Law, Litigation (2006 – 2020)
Chambers USA: Massachusetts (Band 1) – Environment (2004 – 2019)  
Included on the Massachusetts Super Lawyers: Environmental list (2004 – 2019)
Acquisition International Legal Award, US Environmental Law Firm of the Year (2011 – 2016)
Acquisition International Global Excellence Awards, Most Outstanding Environmental Lawyer – Boston (2018)
Who's Who in American Law
Who's Who in the World
Who's Who in America
Guide to the World's Leading Environmental Lawyers
The International Who's Who of Environmental Lawyers
Phi Beta Kappa
Martindale-Hubbell AV Preeminent
Involvement
Fellow, American College of Environmental Lawyers
Board Chair, Boston Harbor Now
Trustee, Massachusetts Environmental Trust
Member, Bureau of Waste Site Clean Up Advisory Committee, Massachusetts Department of Environmental Protection
Former Member, Board of Directors, MassDevelopment
Former Chair, Trustee Council, The Nature Conservancy (and former Chair, Massachusetts Chapter)
Former Board Member, Boston Harbor Island Alliance (past Vice-Chair and Treasurer)
Member, American Bar Association
Member, Massachusetts Bar Association
Member, Boston Bar Association
Recent Insights
News & Press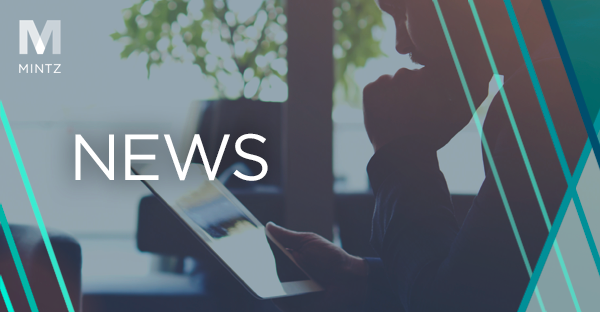 An article published by Law360 reported that Mintz successfully defended the Wychmere Beach Club, a small Massachusetts resort property, in a lawsuit brought by the Conservation Law Foundation alleging that the Beach Club's wastewater treatment facility needs a federal permit under the Clean Water Act in addition to the state permit it already has under the Massachusetts Clean Waters Act because the treated effluent from the wastewater treatment facility percolates through soil to groundwater that is connected to Wychmere Harbor. In the ruling, U.S. District Judge William Young agreed that the Beach Club's discharges were not covered by the federal law.

The Mintz team representing the Wychmere Beach Club includes Mintz Member and Chair of the firm's Environmental Law Practice Jeffrey R. Porter, and Co-Chairs of the firm's Appellate Practice Andrew N. Nathanson (Special Counsel) and Emily Kanstroom Musgrave (Member).

Mintz Member and Chair of the Environmental Law practice Jeff Porter was quoted in a duo of articles published by Law360 that examined the biggest environmental law rulings in 2019 so far and environmental policy to watch through the end of the year.


In a July 12 article, Mr. Porter discussed one of the biggest environment-related regulations to watch in the second half of 2019.

In particular, he commented on the EPA's new narrower definition of "waters of the U.S." under the Clean Water Act, which is expected to be finalized by December. "Just as the Obama rule was challenged in court by various states and industry groups, the Trump rule will face its own legal battles," Mr. Porter said.

In a July 8 article, Mr. Porter discussed one of the most significant rulings in environmental law during the first half of 2019.

In particular, he commented on the U.S. Supreme Court's ruling to limit courts' ability to defer to federal agencies' interpretations of their own regulations. "With their newfound leeway, judges could begin to wade more deeply into controversial and science-heavy issues like climate change and water quality disputes," Mr. Porter said.

Events
Mintz's Jeff Porter will be giving the closing remarks at Boston Harbor Now's "Working Port: A 21st Century Harbor Event." This event will serve as an "idea exchange" on building a 21st-century harbor that can withstand the climate and environmental changes.
Viewpoints
November 29, 2018
|

Article

|

By Jeff Porter
You don't see a unanimous decision of the United States Supreme Court very often, especially in an environmental case, but that's what happened this week when the Court held that for an area to be "critical habitat" of an endangered species, it first had to be habitat.
Read more
November 2, 2018
|

Article

|

By Jeff Porter
I've been an environmental lawyer for thirty years. That's how long the jurisdictional reach of the Federal Clean Water Act has been unsettled. Sometime in the next few months the newly more Conservative United States Supreme Court will decide whether to grant either of two petitions to review diametrically opposed Federal Appeals Court answers to the question of whether the Clean Water Act applies to discharges to groundwater, one very important facet of the three decade old question already considered by the Supreme Court three times.
Read more
Events
Speaker
Boston Harbor Now
Boston, MA